The Phoenix Signature Series "v"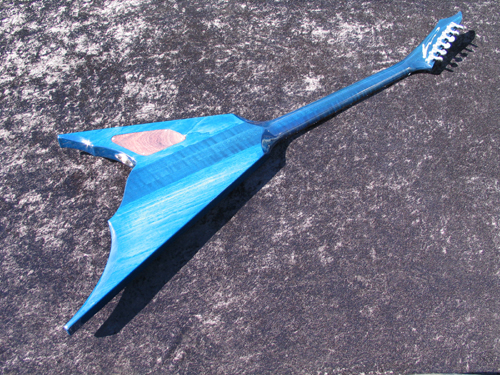 Design has been approved by Claudeous of the bands Serpent & Seraph, and Dragonlord
24 frets
Rosewood fingerboard
18% nickel/silver alloy frets
Eternal Flame trussrod cover
Real Pearl Eternal Flame and dots
Ash Body
Flamed Maple neck
Quilted Maple headstock overlay
Rosewood compartment cover
Grover Tuners
Seymour Duncan passives-Alnico Pro II (neck position) Dimebucker (bridge position)
Shaller fine tuners
Old style tunamatic bridge
Chrome volume/tone
Switchcraft 3-way and jack
Ready for immmediate shipment-Does not include a case. A custom ATA case can be provided and is extra!
$2999.00 total
+ Shipping & Insurance

---
Buyer pays for all shipping and insurance costs. If you have any questions feel free to send an email. Serious inquiries will receive a prompt reply. The shipping and insurance cost will be calculated as soon as we receive your mailing address. Payment must be made in full before the item is shipped. Prices are subject to change without prior notice. All items sold are exactly as indicated. There is now a 7 day money back return policy minus a 25% restocking fee. So please ask all questions before making your final decision to purchase anything. Neither Stallings USA, it's employees, nor it's affiliates will be held responsible for buyer dissatisfaction. Therefore choose wisely!
Note: We are a guitar Custom Shop that specializes in guitars and basses Made in the USA, Custom Shop Guitars, Exotic Woods, The finest materials on the market, hand tooled precision, and Luthier expertise. Stallings USA, and Dragonslayer Guitars provide our customers with a range of products and services such as custom shop guitars, clothing, electric guitar service and repair. We build hollow body guitars as well as solid bodies, and our specialty is neck through body styles. We also do bolt on necks and set neck construction. We use exotic woods such as mahogany, quilted maple, flamed maple, ash, rosewood, ebony, redwood, and others. We use authentic nitrocellulose lacquer in our finish paint process. Our inlay work is hand made from real pearl and abalone. Our hardware includes Floyd Rose, Kahler, Seymour Duncan, EMG, Gotoh, Schaller, and Grover. We are also a Guitar Service, Repair, and Setup center specializing in acoustic and electric guitars! We are a Certified Gibson Service Center. We service Gibson, Epiphone, Fender, BC Rich, PRS guitars, ESP guitars, Jackson guitars, and all other electric guitars and basses. Servicing the communities of Huntington Beach, Newport Beach, Irvine, Saddleback, Tustin, Santa Ana, Garden Grove and Westminster. We are located in Costa Mesa, Orange County, CA, down the road from Guitar Center in Fountain Valley.