USED GUITAR GALLERY
Here is where you can get your hands on a Used Stallings U.S.A. as they become available.
Slaughter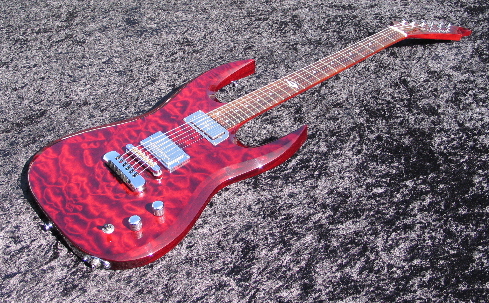 Available Now
This guitar is a deep red, as in this picture. Mahogany Body, Quilted Maple top, Neckthrough construction with Rosewood Stringers. This particular guitar was made from 30 year old mahogany. It has a very warm tonal quality as well as that deep low end thump you might not expect from this style of guitar. It also cuts through the mix just like a knife. You will have no problems doing those ear piercing screams with this beast. This guitar was mainly used for recording purposes only.
This guitar does not come with a case! A standard case can be obtained from any guitar store! Since this guitar does fit into a gig bag, it can also be shipped as such for the cost of the gig bag itself.
In Stock and ready for immediate shipment!
$2099.00 total
+ Shipping & Insurance
---
Buyer pays for all shipping and insurance costs. If you have any questions feel free to send an email. Serious inquiries will receive a prompt reply. The shipping and insurance cost will be calculated as soon as we receive your mailing address. Payment must be made in full before the item is shipped. Prices are subject to change without prior notice. All items on this page are on consignment and sold exactly as indicated. There is now a 7 day money back return policy minus a 25% restocking fee. So please ask all questions before making your final decision to purchase anything. Neither Stallings USA, it's employees, nor it's affiliates will be held responsible for buyer disatisfaction. Therefore choose wisely!